From the scuttlebutt on a few threads on the Linn forum and from other indications it appears Linn is about to introduce two new products: the Klimax DSM and the Akurate DSM. The early conjecture was that the "M" might stand for Movie and be multi-channel streamers but it is pretty obvious now that this isn't the case. It seems most likely that the "M" stands for Multi-input or Multimedia.
Although things are still pretty sketchy, and Linn are keeping mum about things at this point, what seems pretty certain is that Linn will introduce the Klimax DSM for shipment in October and that this will be basically a Klimax DS with preamp capabilities and multiple inputs. The back panel has both single-ended and balanced ouptuts but also an HDMI output! (Although I suspect this is only a pass through for video signals.) But it is the inputs where things get really interesting as it features one set of analog inputs on XLRs, the standard Ethernet input, two each of coaxial and optical digital inputs and three HDMI inputs! In addition it is rumored to support Apple's AirPaly for wireless streaming from iPods, iPads, iPhones, etc. although this hasn't been confirmed yet. Here is a photo that shows the KDSM back panel: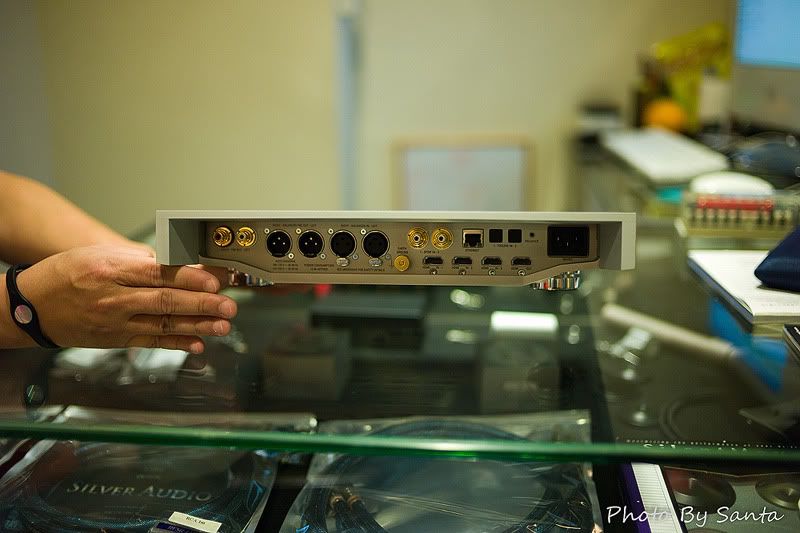 And here is one that apparently shows a KDSM doing AirPaly streaming from an iPod Touch: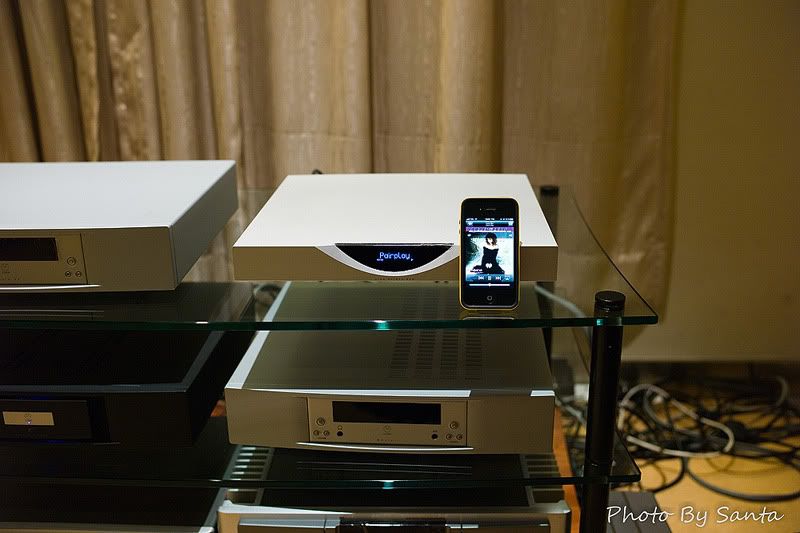 It is not clear how the preamp stage functions as some have referred to it as a digital preamp. I would hope, especially as it has the inclusion of an analog input, that it would be an analog preamp - in essence a Klimax Kontrol circuit for controlling volume and balance - with multiple digital inputs replacing the other analog inputs.
In addition to the KDSM there will also be an Akurate DSM to ship in November. This unit should feature the same complement of digital inputs - coaxial, optical and HDMI - but may also have more than one analog input (there is more room on the back panel) and is even rumored to include the MM/MC phono stage from the Akurate Kontrol. Again, while it is being referred to as a digital preamp, I would think and hope the preamp section is analog. I don't imagine most LP12 owners would like the idea of their wonderful analog music being converted to digital and back again within the preamp and that would require the additional cost of a really high quality ADC.
The pricing on the ADSM is rumored to be £5500 which would put it at about $9500US plus or minus a few hundred dollars. If it really gives the performance of an ADS and an AK combined and adds all that functionality I think that the price is right in line with the capabilities. I haven't yet heard a rumored price on the KDSM but it certainly could end up somewhere in the $25,000 to $29,000US price range if the ADSM pricing is any indication. Certainly this kind of pricing would be appealing as it is substantially less expensive that the cost of the similar DS and companion preamp while giving much more capability on the digital side - as long as there is no performance loss compared to the separates. Since most people using DS units are likely to only have one important analog component, certainly most commonly an LP12, the single analog input should be sufficient while the additional digital inputs allow using Linn's exceptional digital decoding capabilities on all kinds of digital devices from iPods and computers to BluRay players and TV streaming devices like Apple TV.
Apparently the actual announcement will be fairly soon, and it is known that Linn had a meeting last week with its UK Klimax dealers to give them a preview of the product. Unfortunately that didn't stretch to include some of their longest standing dealers in the US, hence why I have had to resort to compilation, speculation and deduction to come up with the info above. Then again if they had told us directly what was going on I wouldn't have been able to share this information with you until the official announcement date. The sword cuts both ways. ;-) With any luck we will have the full details in a week or so.